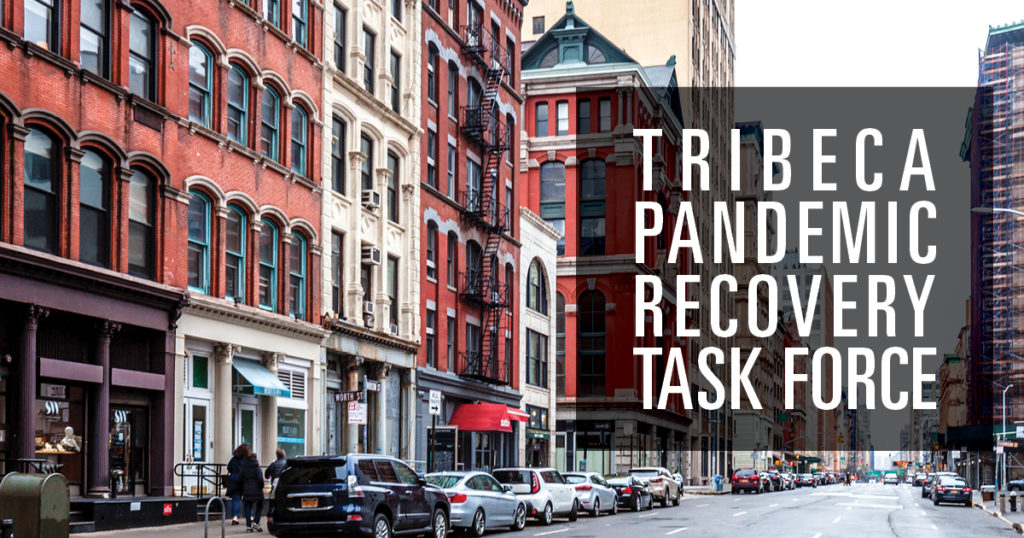 Task Force Will Begin Meeting Later This Month to Develop Strategies for Economic Recovery and Long-Term Resiliency
New York, NY (July 8, 2021) – New York Law School (NYLS) Dean and President Anthony W. Crowell today announced the members of the Tribeca Pandemic Recovery Task Force, a new group that will coordinate a cohesive, community-driven pandemic recovery strategy for the neighborhood. The Task Force is the result of an open community meeting hosted by NYLS in March to discuss COVID-19 recovery, which reinforced the need for a specific group to identify the needs of the community and develop a plan with clear attainable deliverables. The Task Force members are:
Steve Abramowitz, Odeon Café
Alice Blank, Manhattan Community Board 1 Vice Chair; A. Blank Architect
Sandra Brandan, Counselor at Stuyvesant High School Desmond Brooks, Shopboy Tailor Shop
Michael Dorf, City Winery
Demetri Ganiaris, Tribeca Alliance; Ganiaris Realty Group
David Grubb, Tribeca Alliance; CMIT Solutions, Inc
Kendal Khanna, Shopboy Tailor Shop
Andreas Koutsoudakis, Tribeca's Kitchen; Koutsoudakis & Iakovou Law Group
Lance Lappin, Lance Lappin Salon
Zesty Meyers, R & Company Gallery
Paul Mutter, Head of Global Fenics Sales
George Olsen, NYC Regional Center
David Steingard, Laughing Man Coffee & Tea
Lynn Wagenknecht, Odeon Café
NYLS led the organizing effort, in close consultation with local business owners and stakeholders. Given its location in the heart of Tribeca and deep ties to the neighborhood, the Law School can serve as a neutral convening power for the Task Force and provide meeting space, communications channels, research, and links to technical assistance. Dean Crowell will serve as the Task Force's inaugural Chair. The Task Force's initial meeting will take place at NYLS (185 West Broadway) on July 13. The initial meeting will serve as an opportunity to discuss issues the Task Force will focus on, and determine the timetables for creating the deliverables.
"The pandemic devastated Tribeca's business community," said Anthony W. Crowell, NYLS Dean and President. "As an academic institution that has been part of this neighborhood for 60 years, NYLS has an important role to play in our neighbors' recovery. I am grateful to our Task Force members for generously committing their time and resources to this work, and know they will be able to help chart the long-term success of our community."
NYLS's involvement in Tribeca's post-pandemic recovery began in March when Dean Crowell wrote an open letter to the community—published in the Tribeca Citizen—and NYLS hosted a virtual public meeting. At the meeting, panelists who represent a cross-section of those living and working in Tribeca discussed issues that have affected the neighborhood in the wake of COVID-19. Key themes that emerged were the need for greater communication and collaboration, more formal organizing efforts to support impacted businesses, legislative and policy advocacy, investment from corporate entities, and a cohesive neighborhood vision.
Following the meeting, Dean Crowell and other NYLS leaders held additional conversations with individual community members. These conversations helped the Task Force take shape and underscored the need for a central organizing entity. This effort would include and build on the many wonderful community organizations and assets which call Tribeca home.
The Task Force invites the Tribeca community to follow its work by visiting www.nyls.edu/TribecaTaskForce.