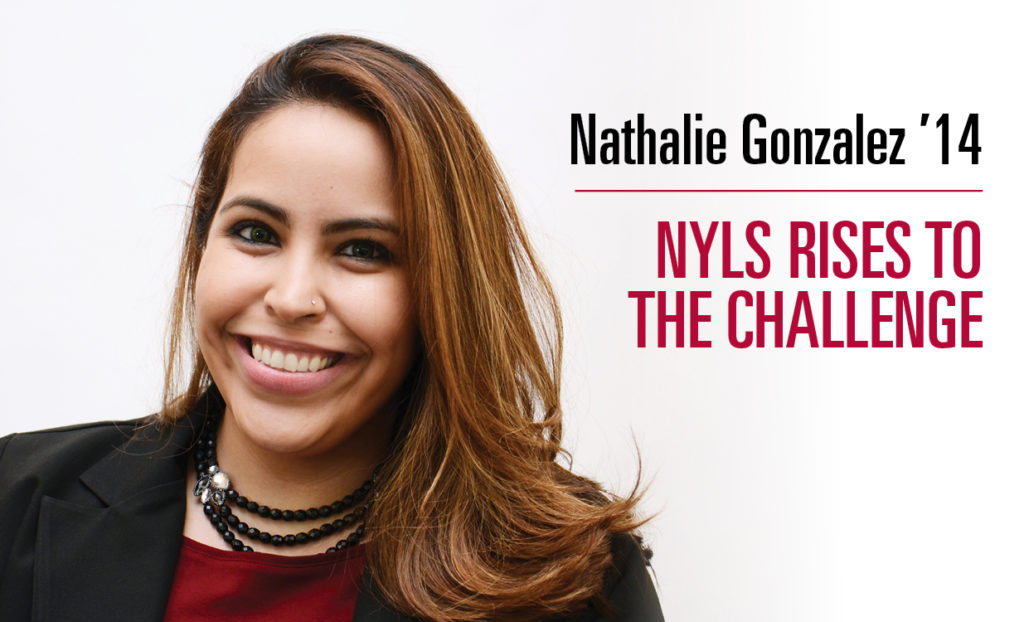 Editor's Note: As the nation responds to COVID-19, NYLS alumni and students are sharing their time, talents, and resources to benefit their local communities and the School. In this series, we share their stories.
---
COVID-19 has raised a host of new legal issues for families, from parents struggling to make child support payments to tension over child visitation.
As Legal Director at the nonprofit LIFT, Nathalie Gonzalez '14 is working hard to help families navigate these changes. LIFT—Legal Information for Families Today—provides free legal and social support to families involved in New York City Family Court cases.
During the pandemic, LIFT's decades-long partnership with the Family Courts has positioned the nonprofit to work closely with the courts on plans for reopening, which will create a new set of challenges given the number of cases waiting to be presented.
Helping Families Remotely
"The biggest challenge for our clients is that because of the pandemic, Family Courts are only able to hear a very limited number of cases," Gonzalez said.
LIFT smoothly transitioned its bilingual helpline to the remote environment, and staff continue to field calls on child support, custody, visitation, child welfare, domestic violence, and related housing and immigration questions.
For the court programs Gonzalez oversees, the transition was a little more complicated. Before the pandemic, LIFT attorneys went to Family Court daily to answer questions, provide legal advice, and help families file paperwork.
Now, Gonzalez and her team are staying connected virtually. A major issue is child support.
"We have clients who were laid off and can't afford to pay child support," she said. "Meanwhile, the state might still be enforcing administrative remedies, such as suspending driver's licenses or freezing bank accounts. If that happened in the past, clients could simply walk into a customer service center."
She and her team have prioritized creative solutions. Even if clients can't file child support requests now, they can gather the necessary paperwork.
"That way, when the time comes, you're not just walking into court saying, 'I lost my job six months ago—where do I go from here?'" Gonzalez notes.
Another challenge is custody and visitation disputes. Given the limits of COVID-19, the courts are only hearing emergency matters—those that are life and death.
"It's a sensitive subject because if you're not seeing your child, I'm sure you'll feel like that's an emergency, but that's not how the courts are identifying emergencies right now," Gonzalez said.
She and her team have helped clients find innovative co-parenting solutions, such as scheduling make-up visitation time or more phone access.
"It's a different kind of lawyering right now," she said. "We're working to ease tension and confusion, encourage communication between parents, and prepare parents for their day in court."
Her team has also stayed abreast of changes to Family Court processes and presented public webinars.
Cultivating a Passion for Family Law
Gonzalez didn't intend to pursue family law when she arrived at NYLS.
"I'm a first generation college student, and what I knew of lawyers' careers was what I saw portrayed in the media," she said.
At NYLS, her conversations with Professor Emerita Carlin Meyer and immersion in the Diane Abbey Law Institute for Children and Families solidified her interest in the field.
"It's not something I planned, but it's the best thing that could have happened to me," she said.
Earlier this month, she was a guest speaker at Professor Lisa Grumet's virtual Family Law class.
"Professor Grumet is wonderful, and I appreciated the opportunity to share my work with students," she said. "More people should get involved in family law. We all have families. We all care about our families. It's a very rewarding career."
NYLS's Strong Family Law Connections
NYLS's Abbey Law Institute was founded by Diane Abbey, whose daughter, Leslie Abbey, founded LIFT and is an active board member.
LIFT's 2020 Gala, which was cancelled due to the COVID-19 pandemic, planned to honor NYLS Dean and President Anthony W. Crowell along with alumna Frances J. DiSarro '85, Principal and Senior Counsel at KPMG LLP, for their leadership in and commitment to the field of family law.  
Those who wish to support NYLS and its students can learn more here.