Make a gift and support the Post-Conviction Innocence Clinic's work.
The Post-Conviction Innocence Clinic (PCIC) at New York Law School's Plumeri Center is a proud member of the Innocence Network—and alongside our fellow members, we will honor the 10th Annual International Wrongful Conviction Day on October 2.
The Innocence Network is a coalition of 70 independent organizations working together to free the innocent and prevent wrongful convictions around the world. Since 1989, over 3,385 wrongfully convicted people have been exonerated in the United States. Collectively, these individuals spent more than 29,000 years in prison for crimes they did not commit. Innocence Network organizations, together with wrongly convicted individuals and their families, have secured over 770 exonerations to date.
New York Law School's PCIC re-investigates convictions where individuals convicted in New York State claim to be innocent and present convincing evidence to support their claims—but lack DNA evidence. Clinic students take on difficult cases and investigate thoroughly with supervision from Clinic Co-Directors Gaynor Cunningham and Adele Bernhard. We have exonerated clients in Rochester, Monroe, Suffolk, Nassau, Bronx, and Kings counties.
Meet Henry Smith and P.J.
In 1984, Henry Smith and P.J.—both teenagers —were arrested and quickly convicted of shooting to death a woman while she sat in a car with her lover in a Queens Park at night. Years after his conviction, Smith reached out to the Clinic for help, and after an initial investigation, the PCIC accepted both Smith and his co-defendant, P.J., as clients.
This case exhibits multiple classic indicators of wrongful conviction. Smith and P.J. were just young teens without records of violent behavior when they were picked up by police—based on neighborhood gossip and a false and later-repudiated rumor. Each had a credible, convincing alibi explaining where they were the night of the crime. The surviving witness did not identify them at trial and no forensic evidence—DNA, fingerprint, hair, or blood—linked them to the crime. The only evidence against them was a false, coerced confession extracted from P.J. by detectives after over 24 hours of questioning without a parent or guardian. In fact, P.J. was locked in the stationhouse overnight while the police went home to sleep, and his mother frantically called the station to find him. Her calls went unanswered.
To show how and why P.J. falsely confessed, the Clinic hired a clinical psychologist, a forensic psychologist, and a fingerprint expert. After meeting and examining P.J., who has been diagnosed with serious mental illnesses, the psychologist concluded that he exhibited high suggestibility and compliance, likely contributing to his willingness to confess to a crime he did not commit. The forensic psychologist reviewed what footage we have of P.J.'s interaction with police and explained that the duration of the interrogation, the NYPD's use of the Reid Technique, and the complete lack of corroboration supports our position that the confession is false.
What's more: Our fingerprint expert identified prints from the scene he believes are of evidentiary value. Our Clinic hopes that when these prints are uploaded to the national fingerprint data bank they will lead to the real killers.
The Clinic is now working alongside the Office of the Queens District Attorney's Conviction Review Unit to ensure they are both exonerated.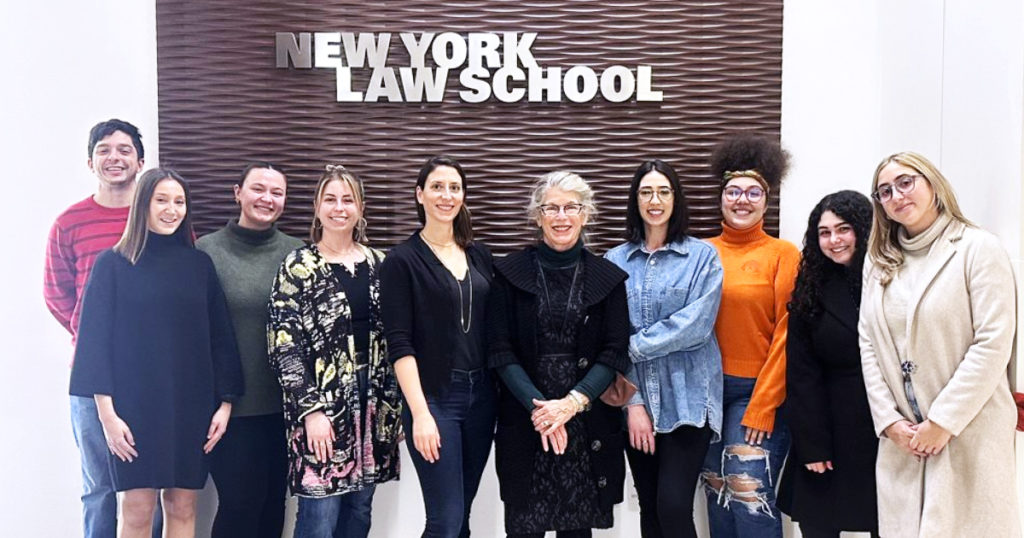 Left to right: Eric Spiniello '24, Carly Antonioli '24, Emma Ratti '24, Sammy Silverstein '24, Professor Gaynor Cunningham, Professor Adele Bernhard, Leslie Dupre '24, Blanca Gates '24, Anahita Khorsand '24, Samantha Bugner '24
Experiential Learning at New York Law School's Plumeri Center
Experiential learning is an integral part of the NYLS education. The Plumeri Center is NYLS's home for experiential learning, and the Center houses our many clinics. Through our top-tier programs, we offer students the opportunity to turn theory into practice: Starting in their first year, students participate in counseling, interviewing, and negotiating exercises in their foundational Legal Practice course. During their upper-level years, students may select from a wide array of experiential learning courses to hone their lawyering skills. Together with a comprehensive legal education, these experiential offerings prepare our students for careers in advocacy.