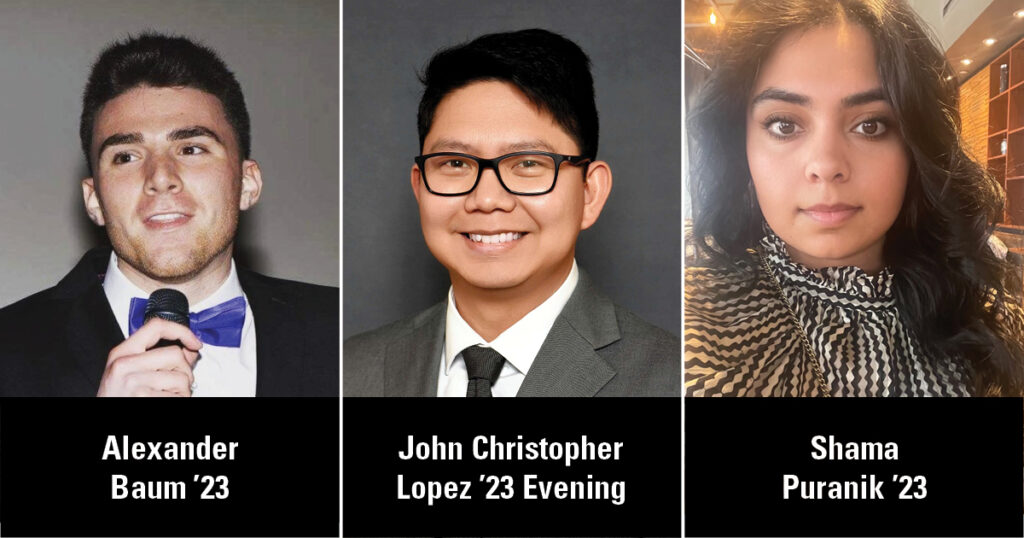 Our New York Law School (NYLS) students have a broad array of dreams and passions—both on campus and out in the wider world. We sat down with three of our students, nominated by their peers, in this month's edition of Humans of NYLS.
Alexander Baum '23
Alexander Baum '23, a graduate of St. Francis College with a Bachelor of Arts degree in political science, originally intended to pursue a life of public service in politics. While a run for political office is never out of the question, a recent change of heart and many conversations with his mentors, family, and friends has inspired Baum to pursue a lifelong dream of becoming a sports agent. After law school, he plans to take the sports agent exam and become a certified player agent for the NFL and NHL. Following that, he intends to open his own sports and entertainment agency which will serve as an all-purpose representation firm for athletes.
He's previously worked for the New York City Office of the Mayor; served as an assistant to litigators working in criminal defense, medical malpractice, personal injury; and interned for the Honorable Joseph J. Esposito of the Queens County Supreme Court. He also served two years as a senator for the Student Bar Association. Outside of the classroom, Baum spends his weekends cultivating relationships with people from all walks of life while assisting with the sales and operations for some of Tao Group Hospitality's best-known nightclubs. Baum enjoys, above all things, meeting new people and helping others in any way that he can.
John Christopher Lopez '23 Evening
John Christopher Lopez '23 Evening is interested in intellectual property law and hopes to practice patent prosecution, with a focus on computer software, following law school. He served as the Digital Reference Editor of the New York Law School Law Review. He also worked as a research assistant for Professor Richard Marsico and helped his research with special education law. Additionally, during his third year, he worked as a clinic student for the Patent Law Clinic and helped a client obtain a patent for their invention. During his second year, he also externed for the VON Coalition, a private interest group advocating to keep Internet Protocol (IP) communications free of governmental regulation. He also presented three legal tech apps leveraging no-code technologies as an affiliate of the Innovation Center for Law and Technology. During the day, he works full-time as an IT Specialist for Old Dominion University, maintaining the university's e-learning systems, such as Canvas and WordPress. He holds a B.S. in computer science from the University of the Philippines – Manila.
He loves timers. Prior to the LSAT, he published a simple LSAT Timer on the Apple App Store to help with his preparation. During his second year, he created a simple web application to help time his exam practices. Aside from timers, he also loves fishing, singing, and playing tennis and video games.
Shama Puranik '23
Shama Puranik '23 is from Princeton, New Jersey. She attended Rowan University, where she graduated with a double major in chemistry and history. While at NYLS, she co-founded the South Asian Law Students Association. She recently was appointed as a council member for the American Bar Association's Government and Public Sector Lawyer's Division. She lives with her husband and is in the process of adopting a Rottweiler named Toblerone.
After law school, Puranik will be clerking in Newark, NJ for Judge Stecher. She will be running her mediations while also being her law clerk. After the clerkship, she will be a part of the Presidential Management Fellowship program, where she'll be liaising between two federal agencies.
---
Want to meet more of our "Humans of NYLS"? Check out previous features!