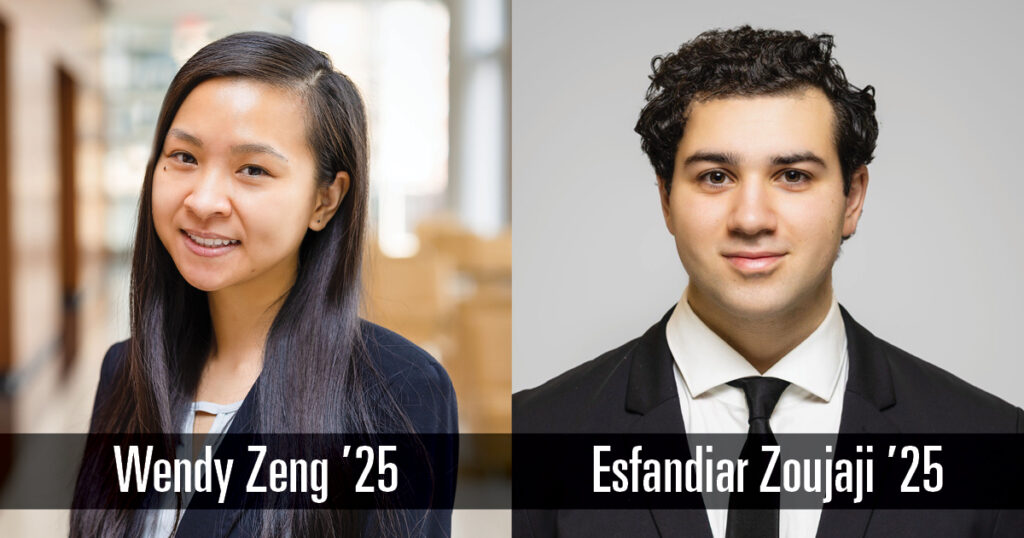 New York Law School (NYLS) students Wendy Zeng '25 and Esfandiar Zoujaji '25 were selected as recipients of the 2023 New York City Bar Association's Diversity Fellowship. The Fellowship Program provides first-year law students from underrepresented communities the opportunity to spend the summer after their 1L year in one of New York's leading law firms or corporate or government law departments.
The application process for the Fellowship Program is rigorous, requiring students to complete a legal writing sample, submit a personal statement, and interview with a screening committee within their respective law schools. The candidates selected by their school are then interviewed again by a panel of representatives from the New York City Bar Association (NYCBA). The final Fellowship recipients are selected from among students put forth by law schools across New York City and are assigned to a participating employer.
This exceptional program enables recipients to jump start their legal career and gain real-world lawyering experience in addition to mentoring opportunities with past Fellows. In fact, past NYCBA Diversity Fellows can play a mentoring role even during application: Both Zeng and Zoujaji were encouraged to apply by past Fellows from NYLS. Throughout the process, NYLS's Office of Academic Planning and Career Development provides support for interested 1L students from initial application information to interview preparation.
"I am very proud of Wendy and Esfandiar," said NYLS Executive Director of Academic Planning and Career Development and Deputy Diversity Officer Aisha Joseph, who leads the School's screening committee and helps prepare students for what they can expect throughout the application process. "They are well-deserving of this remarkable opportunity, and I know that they will excel in their summer placements."
Wendy Zeng '25
Summer Placement: TIAA CREF

What are you most looking forward to as a NYCBA Diversity Fellow? I am most looking forward to being a part of the NYCBA Diversity Fellow network. I am excited to meet and connect with my cohort of NYCBA Diversity Fellows and with past fellows who were once in our very shoes, just starting their legal journeys, to see how far they've gone and to learn from them. Hopefully one day, I will be able to pass on such knowledge to future NYCBA Diversity Fellows as well. I think the NYCBA Diversity Fellowship and what it stands for is amazing, and I am honored to be a part of it.
Esfandiar Zoujaji '25
Summer Placement: Bloomberg

What are you most looking forward to as an NYCBA Diversity Fellow? This will be my first legal job, so I'm really excited to take on substantive legal work, putting the skills that I learned in school into practice in a working environment. I also look forward to connecting with past and present Fellows from different schools. I think it's an awesome opportunity to expand my network in the legal field and to understand the different perspectives when it comes to diversity in the legal field.
Congratulations to Wendy Zeng and Esfandiar Zoujaji on this impressive achievement.