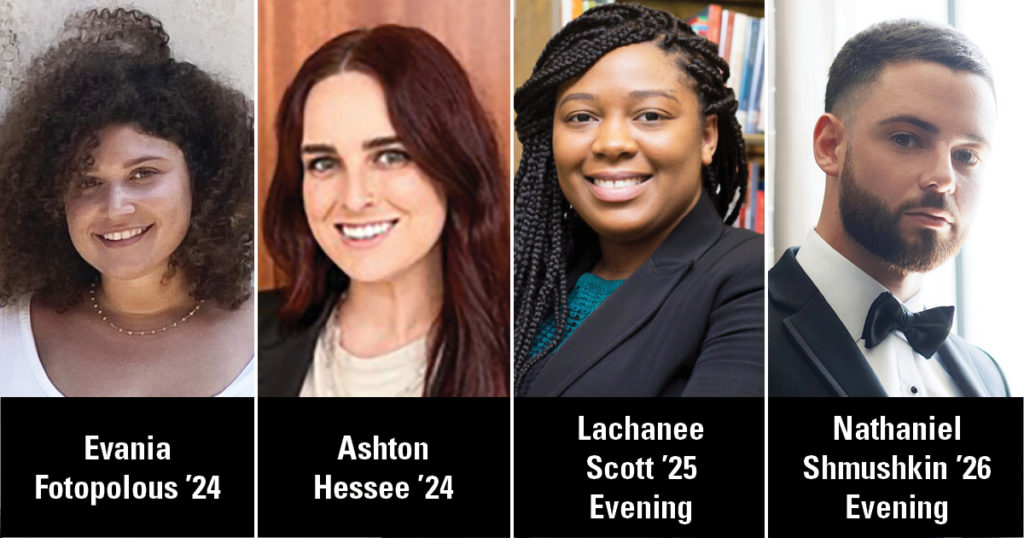 New York Law School (NYLS) students come from many walks of life with different aspirations for their future careers and different visions for how they can use the comprehensive legal education they receive here to achieve their goals. In this month's edition of Humans of NYLS, get to know four standout law students, nominated by their peers, and learn about their goals for the future.
Evania Fotopolous '24
Evania Fotopolous is a 2L day student with a bachelor's degree from the University of Colorado Boulder and a professional culinary degree from the International Culinary Center. Aside from working with inventors in the NYLS Patent Law Clinic, she is also an intern for the Standard International Management company and works directly with the General Counsel, Vice President of Finance, and CEO. After law school, Fotopolous wants to pursue intellectual property law and, once she's seasoned, aspires to start her own law firm.
In her spare time, she loves to cook, hike, ski, surf, and garden. She also has yet to lose at Wordle.
Ashton Hessee '24
Ashton Hessee is a 2L day student. She proudly serves as the Co-President of the recently resurrected NYLS National Lawyers Guild chapter and Academic Chair of OutLaws. Outside of NYLS, she is a student member of the New York City Bar Association's Committee on LGBTQ Rights and a 2022 Equal Justice America Fellow. Last summer, she interned with The HIV Law Project where she handled matters regarding benefits, housing, and immigration law.
Hessee is originally from California and attended Portland State University as a first generation student where she graduated magna cum laude with a degree in political science. She had never visited New York (or the East Coast) prior to attending NYLS but loves bagels and the cold, so it has worked out well! After law school, she hopes to pursue a career in LGBTQ+ civil rights and advocate for queer youth in impact litigation and public policy.
Lachanee Scott '25 Evening
Lachanee Scott is a 2L evening student. During the day, she works as a commercial real estate paralegal at a law firm in New York City. At NYLS, she serves as a member of the Dean's Leadership Council and an affiliate with the Center for Real Estate Studies.
Scott was born and raised in Jamaica. She moved to the United States seven years ago and obtained her bachelor's degree at Berkeley College in 2018. At graduation, she was presented with the Robert Maher Outstanding Student Award, which is awarded each year to one student from the graduating class. She continues to beat the odds as a first generation immigrant, first generation college graduate, and the first to attend law school in her family. When she finishes law school, she plans to continue her career in commercial real estate, expanding in different types of financing.
She spends her free time traveling, baking, and spending quality time with her two-year-old rescue cat, Ruby (who is an absolute cuddle bug!).
Nathaniel Shmushkin '26 Evening
Nathaniel Shmushkin is a 1L evening student. He attained his undergraduate degree in economics from the University at Albany. After graduation, he worked at White & Case before taking his talents to Marsh McLennan. During the day, Shmushkin serves as Assistant Vice President with the Transactional Risk Practice, advising clients undertaking large mergers and acquisitions transactions. In the last fiscal year, the enterprise value of the deals he participated in totaled more than five billion dollars.
Of the NYLS classes he's taken so far, Contracts is his favorite because of it's relevance to his career in mergers and acquisitions as well as his aspirations to become a leader in transactional risk for top private equity firms.
---
If you'd like to meet more of our "Humans of NYLS," check out the October feature!