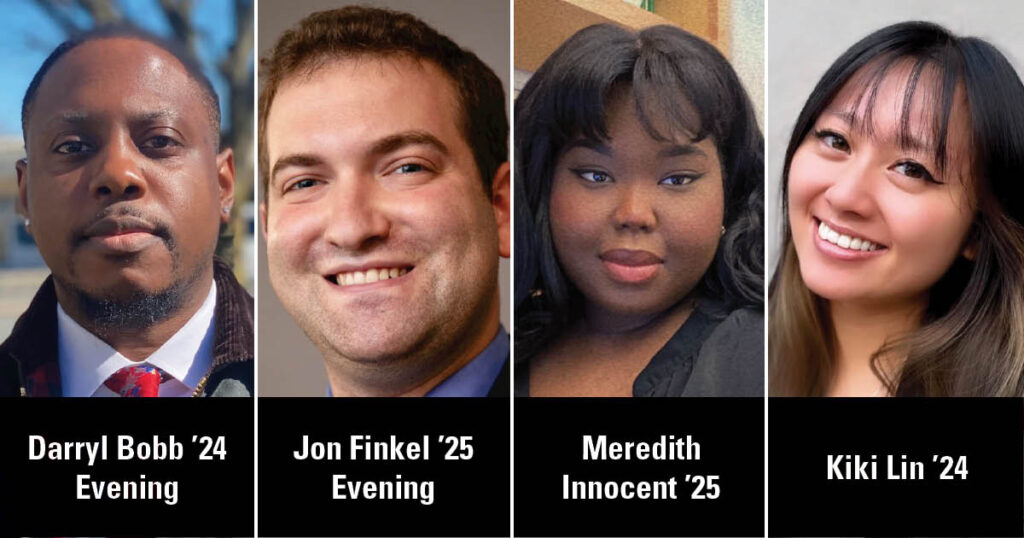 As "New York's law school," our law students reflect the passion and drive that makes the city run, so throughout the school year, NYLS's Student Bar Association spotlights standout members of the student body, who have been nominated by their peers, with the "Humans of NYLS" series.
In this month's edition, learn more about these four active law students and how they're pursuing their interests through their legal education.
Darryl Bobb '24 Evening
Darryl Bobb '24 Evening is a 4L evening student with a wide range of interests. He's not just passionate about law but also plays basketball, is a fashion design enthusiast, a film buff, a concert lover, an avid reader, and a restaurant and museum explorer. Beyond his hobbies, Bobb's deeply involved in the NYLS community. He's the Black Law Students Association (BLSA) Evening Vice President, a student intern in the PTO Trademark Clinic, a teaching assistant for Professor Anthony Iliakostas's Entertainment Law class, the Development and Communications Editor for the ABA Family Law Quarterly Journal, and an affiliate with both the Tricarico Institute for the Business of Law and In-House Counsel and the Innovation Center for Law and Technology.
With his diverse interests and dedication, he is shaping a promising future in the legal field while bringing his vibrant personality to every endeavor.
Jon Finkel '25 Evening
Jon Finkel '25 Evening is a 3L evening student. He loves to travel and has traveled to 45 states and 41 countries. As an undergraduate in college, he founded a student-led film society and led weekly trivia nights at a student union. In fact, Finkel still loves watching movies and going to trivia nights in NYC!
After law school, Finkel wants to apply his business immigration law experience from his time as a paralegal in adjacent pathways and contexts, including human resources (HR) operations, employment law, and I-9 compliance. He really enjoyed providing onsite immigration support to a large multinational corporation because he was exposed to a diverse array of company stakeholders. In fact, he will soon begin a new HR operations role with a specific focus on immigration law, where he hopes to apply the legal skills he's developed at NYLS.
Meredith Innocent '25
Meredith Innocent '25 is a 2L day student. She was born and partly raised in Port-au-Prince, Haiti. Innocent speaks Haitian Creole fluently and understands French. Her favorite part of being Haitian is that Haitian people are resilient. She attended CUNY York College, where she studied political science with a minor in international relations. Innocent graduated in the fall of 2020 ahead of her class and used the extra time before law school to take a gap year where she worked at Fragomen, a business immigration firm.
After law school, her goal is to work for a medium-sized immigration firm doing business immigration and humanitarian immigration pro bono.
Kiki Lin '24
Kiki Lin '24 is a 3L day student, interested in practicing immigration and humanitarian law. She was born and raised in Indiana and graduated from Indiana University in 2020 with a B.A. in political science.
After college, Lin went into the immigration and refugee advocacy field and started working at organizations that help migrants return to their employment fields in the United States. During the day, she is a law clerk at a local immigration law firm, and she continues her immigration advocacy work at Upwardly Global. She is currently enrolled in the NYLS Nonprofit and Small Business Clinic.
In her spare time, she enjoys painting, taking care of plants, writing poetry, and photography. After law school, Lin plans to practice immigration and humanitarian law, and eventually open her own coffee shop.
---
Want to meet more of our "Humans of NYLS"? Check out previous features!